Wood Pallets and Crates for Companies in Toronto and Surrounding Areas
Wooden pallets and crates designed to get your product from point A to point B safely and quickly
Fast communication
95% of all emails are answered within 30 minutes Monday-Friday 9am-5pm. All emails are answered same day. Our clients never have to waste time chasing us for information. You have better things to do.
Stable prices
Your pricing is held as long as possible. When lumber prices rise, you won't experience an immediate price increase. We will only increase your price when we can no longer sustain the loss.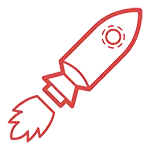 Short lead times
The average lead time for new wood pallets is 7-10 days. We can sometimes reduce this for unexpected needs. Lead time for recycled pallets is usually 7 days and is dependent on availability.
Toronto pallets and crates supplier. We deliver excellence!
Our team carefully inspects all pallets and crates before they leave our warehouse to ensure they meet our standards. You can rest easy knowing you will get exactly what you need, when you need it.
Toronto Pallet Solutions is a full service pallet & crate supplier in Ontario, Canada. Main service area is Southwestern Ontario with over 50% of our clients located within Mississauga and the Greater Toronto Area. We are the first choice for businesses searching for Toronto pallets and crates because of our reputation for dependability and quality.
We are the industry leaders for Toronto pallets and crates. Because we produce the most reliable and cost efficient wood packaging solutions for your business, you won't need to look elsewhere.
Toronto Pallet Solutions can supply your business with new wood pallets as well as used wooden pallets in standard and custom designs. New wooden pallets can be heat treated for international shipping.
Toronto Pallet Solutions will design custom wooden crates that protect your goods and your budget.  Wooden crates are heat treated so you can ship all over the world with no worries.
Toronto Pallet Solutions can provide you with specialty wood products such as over-sized pallets, a-frames, dunnage, lumber, & hardwood blocks.
The only place where you'll get the

perfect solution

  for all of your pallets and crates needs.
Only Some of the Industries We Proudly Serve!
Our clients in the third party logistics industry require large volumes of both standard and custom pallets weekly. They rely on our prompt & reliable service.
When supplying products to retail outlets, quality and consistency are priorities. The same goes for the pallets on which the product arrives.
Our clients in the automotive industry usually require custom heavier duty pallets. We build these pallets to take a lot of beating.
Need cost effective pallet or crate solutions? We are experts!